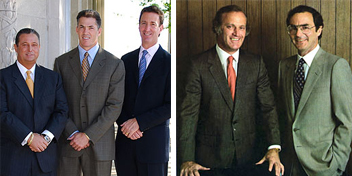 Principals of the Pike Companies (left to right)
David S. Topalian, David J. Weiner, and Jeffrey L. Abrams.
Paul H. Abrams and Isaac N. Weiner (right) founded the company in 1958.
For more than 58 years, the Pike Companies have completed every project on time and within budget.
This impressive record has given Pike a position of prominence in the construction and development industry.
Project by project, Pike has built a proud reputation for integrity, reliability, and professional competence.
Pike's diversified experience includes commercial, industrial, hotels, office, multi-family housing, senior living, educational, institutional, and rehabilitation projects.
On the following pages and in person we invite you to explore the Pike Advantage.
EVERY PROJECT COMPLETED ON TIME
AND WITHIN BUDGET
To maintain our unblemished record of on-time completion, Pike implements a rigorous system of material expediting and cost control. Material expediting includes follow through of materials to original sources in order to prevent deviations in production schedules. Close contact is kept with subcontractors and building trades to assure on-time delivery of materials and proper work force availability.
Pike's early involvement in each project maximizes the client's savings by taking advantage of our expertise in dealing with difficult site problems, design critique, and material selections. Because one of the principals of the firm is directly involved in each project, proper attention is given to every detail and preliminary budgets are strictly adhered to.
Pike's system guarantees the highest quality and most cost efficient final product.
FINANCIAL STABILITY YOU CAN RELY ON
Pike has a well-established credit rating, accompanied by an impeccable record of financial responsibility.
This financial stability is assurance that Pike has the resources to successfully complete every project it undertakes. We encourage you to speak with our bankers, clients, suppliers, and subcontractors regarding Pike's reliability and financial integrity.
Pike maintains its banking with Wells Fargo Bank, N.A. and has an ample bonding capacity with Zurich Surety Co. Both of these relationships have been uninterrupted for over 35 years.
Pike's diversified experience includes commercial, industrial, multi family housing, assisted living, educational, institutional and rehabilitation projects. For more information please contact David J. Weiner, Jeffrey L. Abrams, or David S. Topalian.